September Tamil Monthly Calendar 2022 | Tamil Monthly Panchangam calendar Year 2022
September 2022 Monthly Pournami, Amavasai, Subha Muhurtham, Wedding days, Ragu kaalam Emakandam, Nalla neram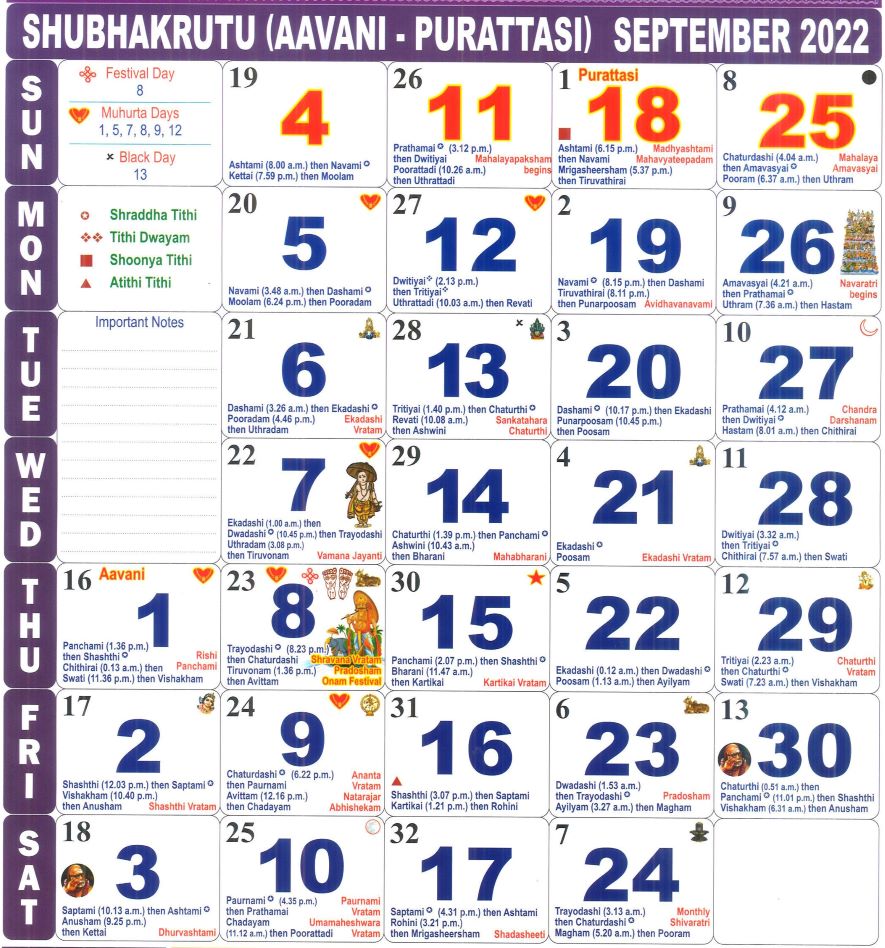 Check the Monthly Calendar for upcoming months in 2024
Tamil Monthly Calendar
The Tamil Monthly Calendar is a traditional calendar system followed by Tamil people in South India. It is based on the Tamil solar calendar and is widely used to determine auspicious dates for various cultural, religious, and social events. This calendar system has a rich history and cultural significance.
Key Features of the Tamil Monthly Calendar:
Months: The Tamil calendar consists of twelve months, each with its unique name. The months follow the solar cycle, and their names may vary in different regions of Tamil Nadu.
Festivals and Panchangam: The calendar includes important Hindu festivals, fasting days, and auspicious timings known as "Muhurtham." It provides guidance for conducting religious ceremonies and events.
Nakshatras: The Tamil calendar also highlights the daily lunar mansion or "Nakshatra," which plays a crucial role in astrological and religious activities.
Auspicious Dates: Tamil Monthly Calendar is consulted to identify auspicious dates for weddings, housewarming ceremonies, naming ceremonies, and other significant life events.
Cultural Significance: The calendar reflects the cultural and religious heritage of Tamil Nadu and is a valuable resource for preserving and celebrating traditional customs and rituals.
Important Festivals and Events in the Tamil Monthly Calendar:
Pongal: The harvest festival celebrated in the month of Thai (January/February) to give thanks for a bountiful harvest.
Tamil New Year: Celebrated on the first day of the Tamil month Chithirai (April), marking the beginning of the new year.
Deepavali: The Festival of Lights celebrated in the month of Aippasi (October/November).
Karthigai Deepam: A festival of lights celebrated in the month of Karthigai (November/December).
Thaipusam: A significant Tamil festival celebrated in the month of Thai, dedicated to Lord Murugan.
The Tamil Monthly Calendar serves as a cultural and spiritual guide for the Tamil community, helping them plan their lives and celebrate their traditions with devotion and joy.